Intelligent Trick Horse Training
Suitable for any age, size or type of horse or pony.
Suitable for those that can no longer ride for whatever reason who wish to continue having fun with their equine friends.
Suitable for horses/ponies too young to ride, too small to ride, not able to be ridden for whatever reason.
Easy for the handler to get around as initial training is done in an area no bigger than 5m x 5m and much of the training is done with then handler stationary.
Pedestals of varying sizes and heights, climbing/fitness walls, big balls, bean bags, frisbees, flags, all great fun for horse and human.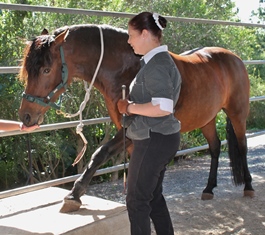 We would love to show you how to have some fun with your horse or pony, or ours....