Horses
Please phone to organise fitting of:
Bits
Bridles – Snaffles, doubles, bitless, hackamores
Saddles
All lunging equipment including cavessons, rollers, sidereins, cruppers, Chambons, de Gogues, etc.
Long reining equipment
All other equipment including breast plates, martingales, Market Harboroughs, draw reins, you name it…..
Even if we do not endorse the use of various pieces of equipment, we would prefer to explain correct and varying uses of equipment and then fit the equipment correctly for the sake of the horse and possibly your safety..
Riders & Handlers
Saddles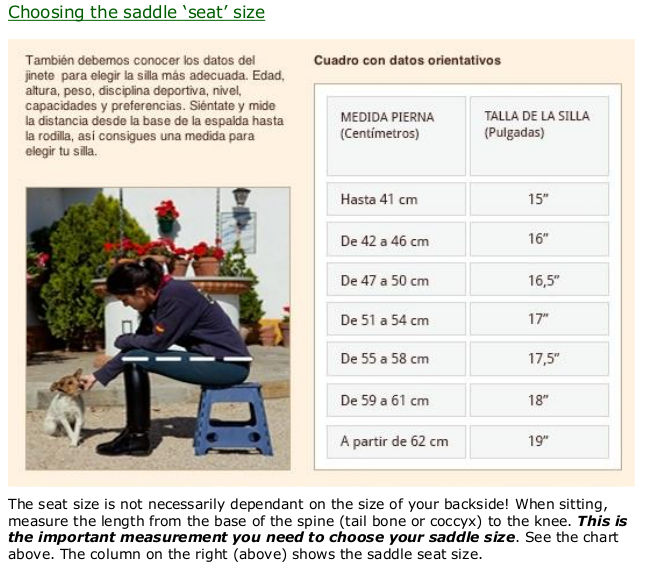 All 3 of the following HAVE to be right!
Saddle SIZE has to be right for YOU
Saddle FIT has to be right for each horse
The POMEL/CANTLE adjustment is ESSENTIAL so the rider is upright and perfectly BALANCED on the horse.
If SADDLE SIZE is WRONG for the RIDER then there is NO POINT in going any further with 2 and 3.
The helpful graph to the right is courtesy of Zaldi Saddles from Spain and voila 19″  is on the graph too as 19″ is considered a normal size – saddles larger than 20″ are a custom order with most saddle companies.
After many years of fitting riders and horses Barrie and Sarita know what size saddle is right for a rider just by looking at their length of thigh bone and depth of seat (and yes a big backside needs to be considered as well) but it takes some time to explain, and sitting and riding in a few different sizes of saddles and seeing oneself in a mirror helps riders understand and work out what is right for them, and consequently the horse under them.
The owner of the saddle company that sponsors dressage rider Edward Gal, (Dutch rider of Moorland Totilas fame) make him – wait for it…… a 23″ dressage saddle – Edward Gal is slim with very long thighs.
Many years ago Sarita asked saddler Les Matten what the largest saddle was he had ever made, answer……a 25″ stock saddle for a man 6'5″.

Saddle fitters in Australia won't bring in or make even 18″ saddles for riders to try, let alone 19″ and 20″ even though those sizes and larger are readily available overseas.  Why not?  Most adult riders are being squeezed into saddles that are too small which means they load the back of the saddle pushing the panels of the saddle into the horses loins – and you would drop your back if this was happening to you and  too small a saddle restricts the rider from being able to swing and move freely with the horse.  Neither party wins in this situation.
We have saddles up to and including a 19″ for riders to try when working out what size is ideal for them.  Please feel free to come and try, and bring you horse too if you want.    We have safe covered yards available if you want to bring a horse.
Office: (+61 8) 8370 9809  |  Barrie: 0400 639 909  |  Sarita: 0408 084 777
Email: info@academyofdressage.com.au
Proud supporters of Ethical Equitation   –   Signatories to the Australian Horse Welfare Protocol