Well actually, LOTS!
So grab a cuppa, have a good read, and book yourself in to come and watch, or better still to participate, in some of the fun learning we have organised for the rest of 2014!
Tasidor (PRE) and Barrie meet our new Working Equitation bull, named Fergus by his maker Martin in NSW.
To see the wonderful photographs I can email you the newsletter with colour photos. Email us at: info@academyofdressage.com.au and request current Newsletter and I will be only too happy to forward to you.
First, thank you to the 100 plus that attended and supported HorseSA at an 'Evening with the Stratton's'. Barrie and I loved sharing some of what we learnt earlier this year at 'Imagine a Horse' in Texas, the world leaders in Intelligent Trick Horse Training.
We are thrilled at how our Classical background, Trick Training and Working Equitation are fitting together like a beautiful jigsaw puzzle. Every piece made to fit perfectly with the other pieces. We are so excited about where we are travelling with all this, and what fun.
Bookings are taken for Working Equitation sessions that Michele and I have organised to hold each weekend, alternating with each other for the rest of the year. Come frequently, come occasionally, come to participate, come to watch, totally up to you. Everyone from all walks of horses and riding welcome.
We can send a full calendar of dates upon request.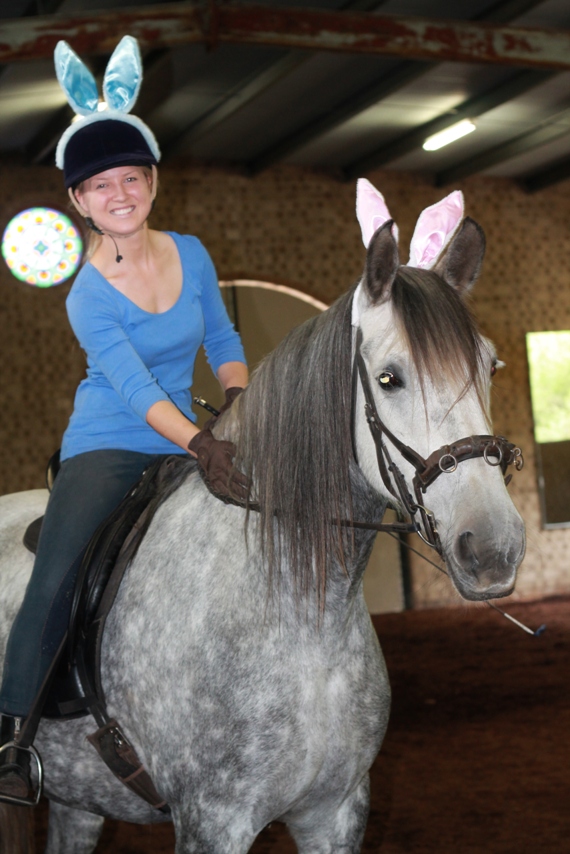 Working Equitation in Australia has 3 Phases: Obstacles with style, Dressage freestyle to music, Obstacles against the clock. International standard – 4th phase cattle penning.
Funday Sundays at Academy of Dressage are from 12.30 to 4.30pm and Crystanby from 10.30. Cost of $150 includes tea and coffee, use of all our obstacles and equipment, and lots of help fro both Barrie and myself. If you require a school horse please add $45. Small groups, so plenty of attention. There is a lot to know, and do, and it's great fun.
Then early in 2015 we have put our hands up to have Pedro Neves, current Working Equitation World Champion, come to SA to give a clinic. He is on Facebook and there is lots on YouTube of him competing. Have a look.
We hope we can excite you to come with us on this journey.
Gill Kennerley, Founder of Working Equitation in Australia says: "Working Equitation is Dressage with a Purpose" and "A fun way to train seriously".
Aspire to good horsemanship: no matter the breed of horse or style of riding.
It is a cosmopolitan sport aimed at saving the tradition of working horses around the world.
And as one website put it:
Working Equitation is a fun way to test the partnership between you and your horse.
Even in competition they allow the horses to be accustomed to the obstacles and equipment before riding the course.
When food on your plate looks attractive you want to eat it and when a Working Equitation obstacle course looks attractive you want to ride it. Well we have some very nice eye candy for our riders that's for sure, and please bring a favorite CD you like to ride to.
We also give private and share lessons in Working Equitation.
TRICK HORSE TRAINING
Like Yoga for horses, stretching and suppling, body awareness, learning to learn. Horses of any age eligible for trick horse training sessions. We have very safe equipment purpose built.
Barrie Judging and giving 4 clinics in WA – August 30th onwards
Geraldton WA – Judging followed by Clinic, a then a Clinic in Perth, Albany and Kalgoorlie.
If you are one of Barrie's WA students and you are interested in any of the above please call him on 0400 639 909.
Baroque Horse Magazine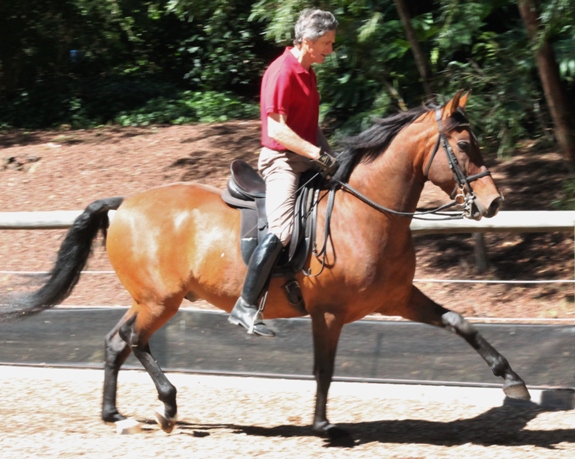 Barrie keeps churning out articles. Current magazine: Dressage – The fundamentals which lead to correct paces and movements, and how to recognise such work. Next BHM article Barrie has been asked to submit is about his thoughts on Working Equitation coming from the perspective of a Classical Dressage Trainer and 'A' Level Olympic Judge. Due out August 2014.
Also written an article for the Andalusian Salto al Cielo titled: Developing the uphill canter. Sarita has an article being reproduced in this magazine too.
Year of the Horse Offer
Many took up the offer, and a number of times, and asked what's next??
So we are re-introducing an offer that used to run all the time as a thankyou to our loyal and regular riders namely:
Pay for 9 and receive the 10th lesson or training session free.
The offer is open to everyone, including current, past and future students.
Lessons or training sessions can be used any time through the year and don't have to be weekly, and don't worry if you have to go away for some months either.
Options are: Lessons on one of our lovely school horses, with your own horse, training of your horse, and includes under saddle, ground work, in hand work, Trick Training, WEq.
Lessons are also available at your property or place of agistment, country and Interstate, so please call for cost including travel.
Vouchers for Birthdays, Mother's Day and Special Occasions available on request.
I ventured into Facebook February this year. Have you been watching our pages on Facebook? I hope our pages are interesting and educational. I have certainly enjoyed learning about some of the horsey people out there, and I have reconnected to staff, students and friends from forever ago. Definitely a walk down memory lane.
If you aren't on Facebook it doesn't matter you can still have a look at our pages on the internet. Just click on either: https://www.facebook.com/AcademyofDressage and/or https://www.facebook.com/sarita.stratton.5 and if you are on Fb send a friend request.
A BIG thankyou to Jess LaPia for taking all the wonderful photographs for Barrie's articles and our Facebook pages – fabulous. Thankyou so much. It gives a lot of people joy.